DIGITAL WELL LOG EQUIPMENT
Available LOGGING EQUIPMENT:
BBI-GmbH uses digital well log equipment on cross country vehicles of type VW-LT 45.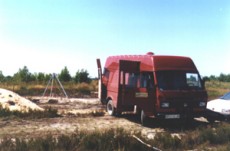 measuring technic on duty
The logging equipment is a standard digital instrument of the GEOCOM Company, Celle, Germany. It is devided in
DS-12 on board of vehicle
cable winch type 06/84 S
220 V / 50 Hz generator..
On board unit DS-12:

DS 12 contains a central computer to control the measuring equipment and a industry computer to process, store and plot the measured data. The current measurement is in time visible on a monitor . The measured log can be plotted in several scales directly after logging. The data is presented in standard API- format, and stored on floppy disk in ascii-format.
Cabel Winch:
The cabel winch has 1300 m borehole measuring cable of reinforced steel with four distinkt wires. The supply tension is 220 V / 50 Hz. The speed is infinitly variable by manual control.
Generator:
The generator of type PANDA 6 is sound prooven and fixed in the vehicle. Its power is 4,5 kVA.